Experiencing the Extinction Rebellion Autumn Uprising as a silent performer
What is it like to offer silent street performance as a form of direct action? Ashburton Quaker Pip Harris reflects.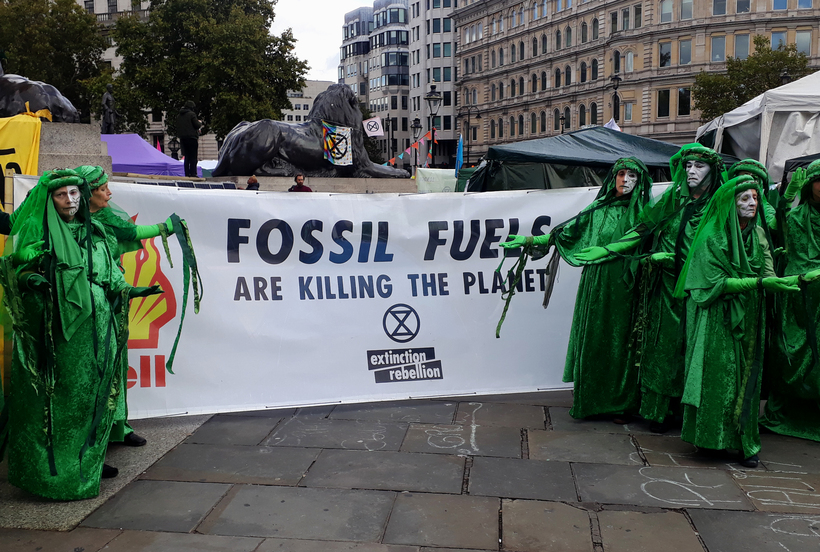 I've always been attracted by the creativity that emerges around protests. Whilst I love to hear the beautiful and powerful protest songs, I can't hold a note. Unless it is a very loud and large crowd, my contribution is not something my fellow activists would want to hear. Trust me: close family members will confirm that one. I don't sing; neither do I dance, tell stories or act.
In response to the April Extinction Rebellion (XR) actions, I was pleased when the Totnes area XR group grew so large that it was able to form a group where I live, in South Dartmoor. I attended the first few meetings. When an old acquaintance, Jaine, asked if I'd be interested in joining in some form of creative response I agreed, not understanding where the Spirit quite literally might lead me.
Creating the Green Spirits
'The Red Brigade' have been visible from the early days of XR and the original professionals have encouraged others to form groups in many parts of the country. Jaine suggested that we create a green equivalent here in South Devon. From initial discussions, it moved quickly. We planned out the costumes, and spent long evenings creating these, leaving little time to practise the movements, let alone perfect the makeup.
I love the costume. Superficially we look ridiculous, wrapped in vivid green synthetic fabric - sadly we couldn't find a practical way of creating a costume using natural materials. Yet it speaks to me of ancient drama. The look is part desert Bedouin, part wood nymph. I feel it also references costumes that people of these islands have long worn: for Green Man rituals, at Maytime revels... It reminds me of the understanding that our ancestors had with nature.
First encounters
Our first outing was on the September Friday of the school strike. The shop LUSH cosmetics kindly let us change in the backroom of their Exeter store, and we emerged into the main shopping precinct. Immediately we became the focus of phones and cameras. As we made our way silently, precisely, and very slowly through the crowds, the response was awesome. For over four hours people filmed us, expressing delight and encouragement. That evening's local BBC news led with the group walking in single file. We were exhausted, our backs ached but we were overjoyed: we had created something that really spoke to people.
The October Rebellion
I didn't intend to go. My working life is busy and I'd had an exhausting few weeks leading up to early October. I found time to help the group perfect the costumes and create spares, spending another evening refining the movements and tableaux. When talking to the others, I realised I could make space to join the group for two days. I am so glad I did.
In London, St John's Church generously allowed us to prepare in their crypt. One other Quaker from my meeting was there with me, and I glimpsed familiar Quaker faces during the day. We spent an hour helping each other put on the makeup and garments, and practising our breathing and gestures.
We emerged onto the busy street, walking slowly and perfecting the 'thousand yard stare'. Abuse shouted from the occasional car or motorbike caught me by surprise: 'Wankers', 'idiots'. One elderly lady crossed a closed road to lecture us for 'ruining people's days'. Incensed by our lack of response, she ended up suggesting that we should 'be shot'. But this was a tiny minority. Many more people chose to smile, clap, blow kisses, and film or take pictures.
Saying nothing, feeling deeply
Being a Green Spirit was a curiously meditative experience. There was no looking around to take in the scene. Listening became more vital. Our chaperones walked near us, checking in with us, and engaging with passers-by and the police. We circled people who were locked on and their helpers: many looked tired and cold. Many of us were moved to tears. Meanwhile the cacophony of noise seems to be pushed back around us, relaxing and calming the atmosphere.
Onlookers were curious. Many whispered comments, or tried to engage us in conversation. 'What IS this group?' a man wearing a dog-collar demanded of me. The chaperones engaged a lot of people in conversation but couldn't be everywhere. After two hours we took a welcome pause in the crypt of St Martins in the Field. When we went out again, we joined the much bigger Red Brigade. When I saw the media coverage, online and in print, I felt overwhelmed: red and green figures appear in many posts and articles, including the Guardian's 'Eyewitness pictures of the week' spread.
Faith is at the core of the action for me. I am a Quaker, and like many Quakers my activism – in its varied forms – is fed by and is in response to my spiritual journey. I see the issues of world inequality and injustice, environmental exploitation, militarisation and mass migration as interlinked and impossible to separate.
My faith leads me in unexpected ways. I have found that the depth of feeling I experienced through the Green Spirits only emerged since I got home; looking over the photographs online has moved me to tears. I continue to reflect deeply on what this small group were able to bring.