Creating the Teach Peace Pack
At the same time as my granddaughter joined a school cadet force, in order to complete her A-Levels, Armed Forces Day loomed large. On investigating the educational resources available to schools from the armed forces, I realised there needed to be peace resources just as well-produced and relating to curriculum and syllabus, as a balance.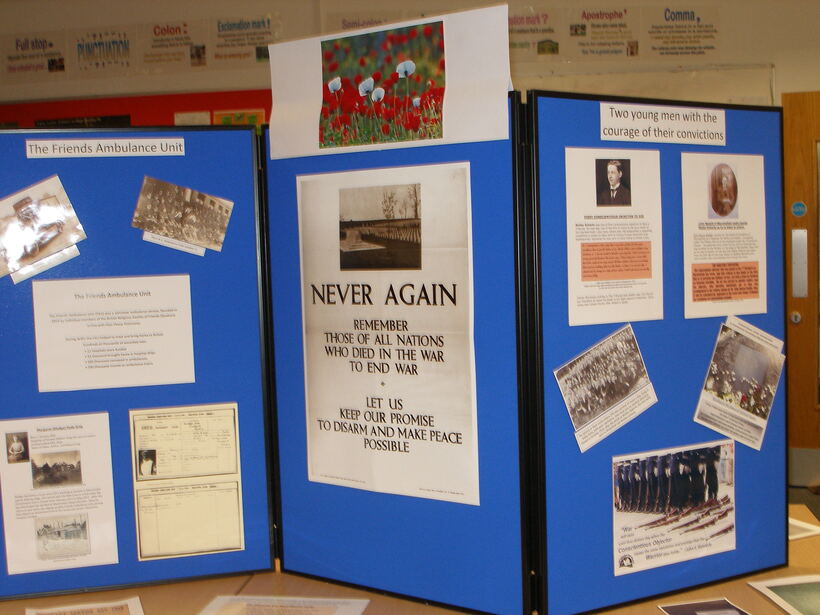 The motivation to act
I was first motivated to act because of two events which shocked me; firstly, my granddaughter joining the Combined Cadet Force (CCF); the second thing was the Ministry of Defence's 'Youth Policy'.
At age sixteen, my granddaughter was 'required' to don uniform, use a gun, salute, march and teach 13 and 14 year-olds to load automatic weapons – unwillingly – in order to participate in all the sports and activities needed to gain her A-Levels, particularly in PE.
Armed Forces Day, an invention of the Ministry of Defence (MoD), promotes their Youth Policy, intending to bring in school-based Cadet Forces to all our schools, aiming to, "create the conditions whereby recruiting will flourish".
Researching this militarisation in our schools, I found some well-thought out, glossy, easy to use, curriculum-based resources for pupils – from the MoD, unfortunately! Also, I found many excellent peace resources for schools, all produced by individual organisations, individual faith groups and activist groups.
My goal was to get a collaboration to produce educational 'Peace Packs', on a par with the military's, which schools would not reject as being partisan.
Approaching organisations
A collaboration emerged after approaching (maybe, pestering!) my Local Meeting and Area Meeting, Forces Watch, Northern Friends Peace Board, CND, Pax Christi and QPSW. At any opportunity I would deliver emotional and heartfelt reports, and wrote copious emails and letters. Many people, including Friends, were behind me, but one person at QPSW completely got my message and ran with my idea. She contacted me with these words "Your enthusiasm jumped out of the page – I am already imagining a really lovely resource"; and later "Inspired by your idea the Peace Education Network (PEN) has decided to work together on a joint schools peace education resource". And so The Teach Peace Pack was born.
None of this could have happened without the belief, support and finances of QPSW, PEN as well as Local and Area Meetings throughout Britain, who have since bought the packs and got them into their local schools.
Next steps
My granddaughter has gone on to write A pacifist in the cadets. My Area Meeting has formed a Peace Strategy Group to engage with schools, local organisations and local Friends by telling some of the stories of peace activists and Conscientious Objectors in WWI and linking this with today's militarisation of our young people.
Sustained by my faith
I might not always have made myself popular with my persistence, and sometimes felt knocked back by people and organisations who felt they already had too much on their plates, but I always felt sustained by a few Quakers around me and by my faith. The Quaker Peace Testimony, which I feel I must live out, is central to my faith. Our children and young people need and deserve to know that there is a different way to resolve conflicts. They need to learn the truth behind the glossy propaganda of the MoD and see that preparation for war is not the way to go.