Donate
Search
Young People's Programme
27 - 30 May 2022, Hemel Hempstead
Young People's Programme is a residential event for young people aged 11-15. It offers new experiences, spiritual growth, fun and friendship.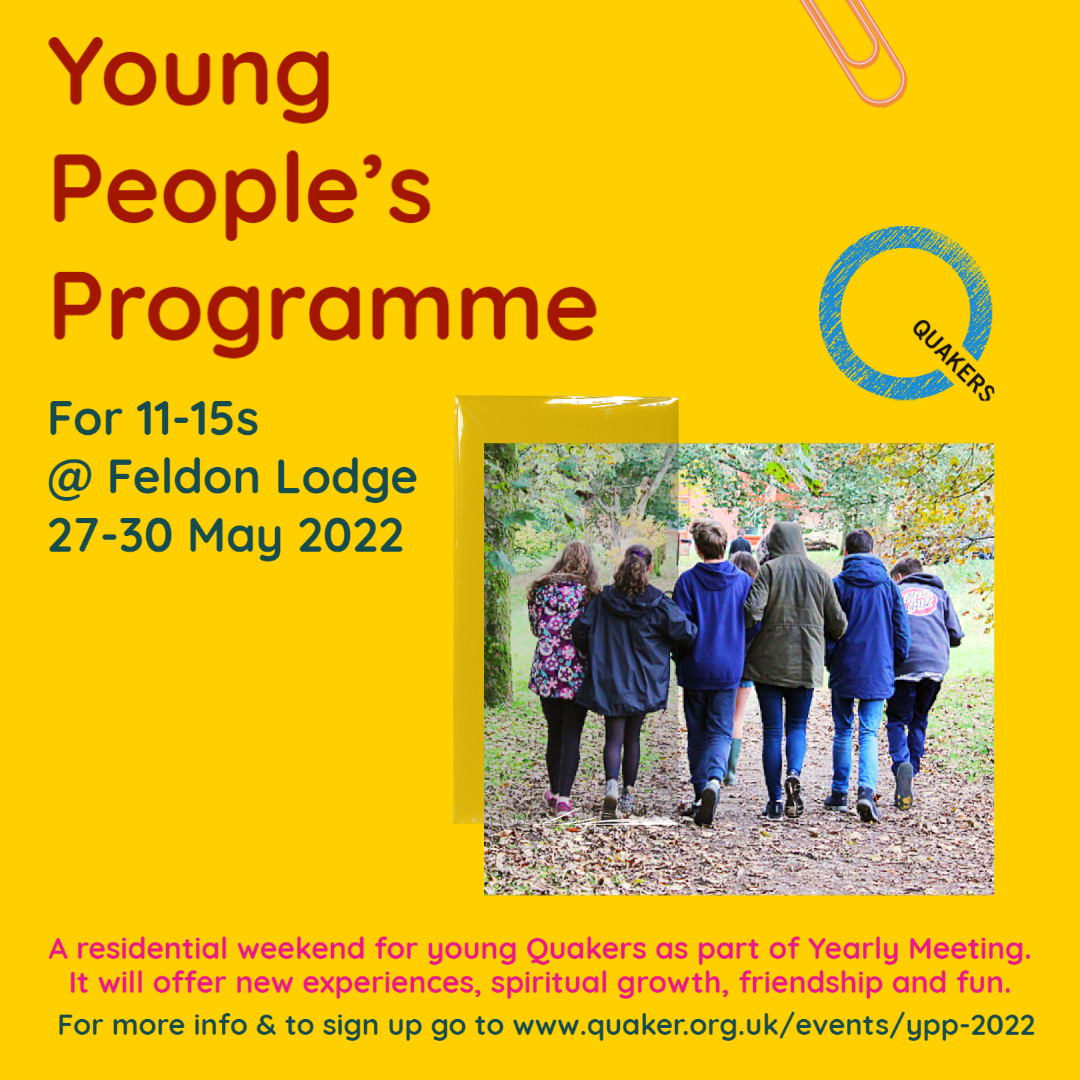 The Young People's Programme (YPP) is a fun, welcoming and thought-provoking event for young people born between 1.9.2007 and 31.8.2011. It's open to all young people, whether you're new to Quakerism or have been a Quaker all your life. YPP offers the opportunity to meet new people, make friends and explore spirituality and big questions through a variety of fun and interactive ways.
YPP is residential event for young people. It is a part of Quaker 'Yearly Meeting', which will bring Quakers of all ages together in Friends House in London to build community and explore issues.
The YPP theme will explore the Quaker testimony to 'Equality', with planned speakers and workshops, to support young people to explore issues of racism, sexism and global inequality in relevant ways. At YPP, over the course of the three days together, there will be plenty of opportunities to play games, socialise, reflect, have discussions and worship together.
The event is planned by people your age and a supportive team of adults. For more information about what YPP is like see the links to past events.
"It was an amazing experience and I have grown a lot from it as a person and a Quaker. The workshops have been perfect in the sense of people that varied. It was so interesting."
"Over the course of the weekend we have enjoyed opening our hearts to each other and to the issues in our world and feel motivated to open our minds to take action on the issues that we care about, in both public and personal ways."
The cost is £225 per young person. Individuals will be invoiced after they register.
If young people need financial assistance to attend, they should first approach their local or area meeting for funding. If this is not possible, please contact cypadmin@quaker.org.uk and let us know as we are keen no one is prevented from attending for financial reasons.
Bookings close 6 May 2022.
More information
For more information contact:
Kirsty Philbrick
Telephone:
Supporting documents
Supporting links
Related events