Search
This event has ended.
The 'Great Shaking': Reconnecting for Radical Action
2 September 2018, Quaker Meeting House
Two campaigners with the group, End Deportations, are facilitating this workshop with the Chelmsford Quakers (114 Rainsford Road), exploring how we can draw from our spiritual interconnectedness for engaging in radical politics and action.
The workshop is taking place in Chelmsford, the town where 15 of our campaigners are on trial facing terrorist-related offences this October for blockading a deportation charter flight.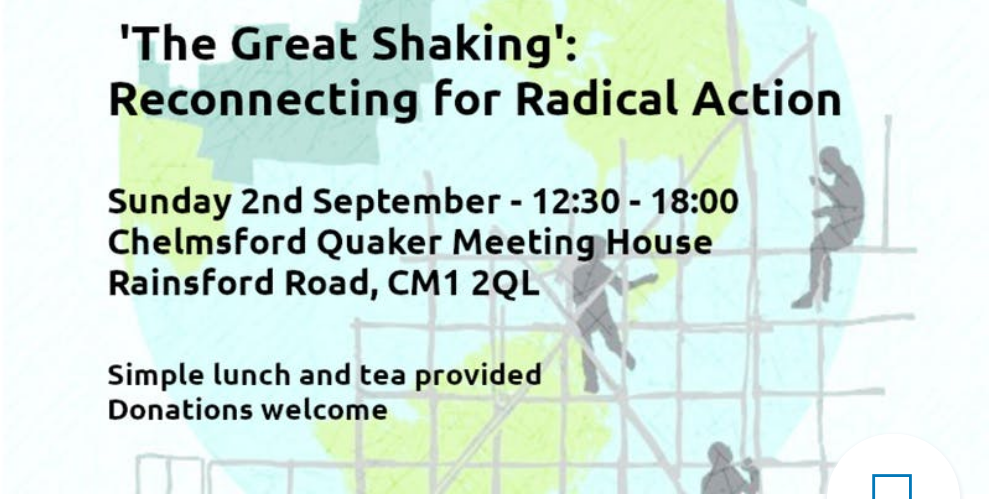 "I saw there was a great crack to go throughout the earth, and a great smoke to go as the crack went; and that after the crack there should be a great shaking: this was the earth in people's hearts, which was to be shaken before the seed of God was raised out of the earth."
George Fox (1624 - 91)
The Chelmsford Quakers and End Deportations warmly invite you to take part in a day long workshop exploring this "Great Shaking"; mother nature within our hearts – this "seed of God" rising from the earth.
Drawing inspiration from our shared history of radical political action and selfless service, the intention of this workshop is to engage the antinomian spiritual belief: that faith and conscience takes priority over lawfull constituted authority.
The intention of this workshop is for each participant to take a step towards organising in a collective or forming an affinity group which adopts radical action in defence of life on earth.
This workshop hopes to remember and rediscover Spiritual Ecology – the ancient understanding that everything is sacred and interconnected. We will be using tools from Joanna Macy and Molly Brown's The Work That Reconnects, which itself draws from the Buddhist philosophy of mutual causality and interdependency, or, the Dharma of Natural systems. In doing so, we hope to:
Reconnect to our inter-dependent existence, beginning with gratitude before honouring our pain."No healing can begin until we are fully present to our world, until we learn to sustain the gaze".
See with new eyes; focusing on our own lives, seeing all that has shaped who we are; embracing this to see how we can take part in the healing of the world.
Go forth: what is our calling in this moment of time? What will enable us to act out of love and solidarity? How can we be 'acted through', to serve others?
This workshop is taking place in Essex, where in 1381 outbreaks of resistance were triggered by government attempts to impose a poll tax on the people, sparking the The Peasants' Revolt; Chelmsford, where in 1566, Agnes Waterhouse was the first Witch to be put to death in England, and where this year 15 individuals face life imprisonment under terrorist-related legislation for using direct action to prevent a mass deportation charter flight leaving Stansted Airport.
This workshop takes place with the Quakers, the spiritual faith of James Nayler (1617-60), whose revolutionary class-consciousness, preachings against the slave trade and the enclosure of the commons led to his conviction under the Blasphemy Act. Before embracing his executioner, his forehead was branded and with a red-hot iron; a hole bored through his tongue. Nayler was silenced, and many others were meant to hear the message of terror.
This workshop seeks to ask: In what spirit are we to meet our adversaries who are perpetuating this terror and destruction today? If the earth is to play a role in our own liberation, what spiritual lessons will be brought to the surface for each of us at this moment in our lives in this corner of the world?
There'll be a moment in the day when participants will be invited to share a short story, poem or passage, perhaps inspired from their own spiritual or political tradition, illuminating acts of service which embody this 'Great Shaking'.
Before beginning the workshop, Chelmsford Quakers warmly welcome you to join them for Sunday Worship at 10:30.
A simple lunch, teas and coffee will be provided.
Please register your attendance on this Eventbrite page, and fill out a few short questions on this online questionnaire explaining your interest in taking part and to help us support your participation.
In the spirit of Dana, a Sanskrit/Pali word meaning giving or gift, this workshop will be offered for free. However, we are welcoming donations of any amount to help make this work possible. As we don't have any other means of financing this event, your donation will help cover the costs incurred by the two facilitators and the Chelmsford Quakers.
This workshop is delivered as part of the St. Ethelburga's Spiritual Ecology programme. St. Ethelburga's Centre for Reconciliation and Peace empowers the next generation of leaders to put spiritual values into action. Stethelburgas.org.
The workshop will be facilitated by Lyndsay Burtonshaw and Eddy Thacker.
More information
For more information contact:
Eddy Thacker
Telephone: 07541579798
Supporting documents
Supporting links
Related events