Quaker Week 2017
This year's Quaker Week theme is 'In turbulent times, be a Quaker'. Quaker Week 2017 runs from 30 September–8 October 2017.
Follow Quaker Week on Social Media with #QuakerWeek.
Quaker meetings welcome everybody, whether it's Quaker Week or not. To find the venues listed below or to simply come along to a meeting for worship please visit www.quaker.org.uk/meetings.
Quaker Week events around the country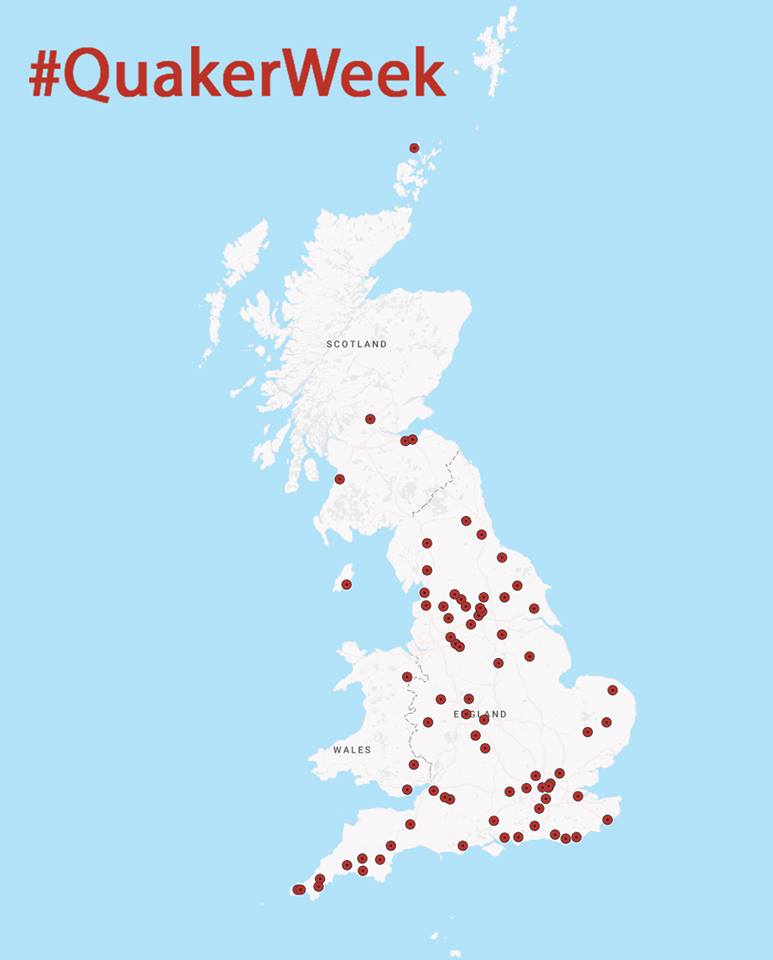 Abergavenny Quaker Meeting
The Bundle – An Asylum Seeker's story by Journeymen Theatre
Friday October 6 at 7.30 pm
Melville Theatre, Pen-y-Pound, Abergavenny, NP7 5UD
More on the meeting's website.
Email: abergavenny@quaker.org.uk
Ackworth Quaker Meeting
Monday 2 October at 7pm Quaker Q&A
Tuesday 3 October 7pm Midweek taster Meeting for Worship
Wednesday 4 October 7pm Air Quality Matters, talk by Neil Turner from Environmental Projection UK
Thursday 5 October 7pm Annual Peace Lecture 'This Evil Thing' is performed at The Fothergill Theatre, Ackworth School
Saturday 7 October 9am to 12 noon Family Creative Craft Morning
More at www.ackworthquakers.org.uk
Airton Quaker Meeting
Unfinished Business: a dramatised reading on the life of abolitionist Thomas Clarkson by Plain Quakers Theatre Project.
Friday 6 October at 7.30 pm
Airton Quaker Meeting House and Barn, Calton Ln, Skipton BD23 4AE
More on the meeting's website.
Email: airton@quaker.org.uk
Ashburton Quaker Meeting
Ashburton has a week of Quaker Week related events!
For more information email: ashburton@quaker.org.uk
Aylsham Quaker Meeting
Aylsham Meeting is hosting a Quaker Week coffee morning.
Email: aylsham@quaker.org.uk
Ayrshire Quaker Meeting
Peace Education Open Day, includes a talk about Quaker Peace Education work (2pm) and videos and discussion (6.30pm)
Wednesday 4 October 10:30am to 8pm
Riverside Recreation Centre, Riverside Place, Ayr KA8 0ED.
More on the meeting's website.
Email: alastairhreid@gmail.com
Balby (Doncaster) Quaker Meeting
Quaker Concern for the Abolition of Torture
Saturday 7 October
For more information email balby@quaker.org.uk
Bexhill-on-Sea Quaker Meeting
Give Health/Healing a chance flexible drop-in day.
Saturday 7 October 10am
Meeting House, Albert Rd, Bexhill-on-Sea
Email: bexhillonsea@quaker.org.uk
Blue Idol Quaker Meeting
A History of Blue Idol and William Penn
Friday 6 October 10am to 4pm
Meeting House, Albert Rd, Bexhill-on-Sea
Email: blueidol@quaker.org.uk

Bradford on Avon Quaker Meeting
Working for Peace in North Korea and Mayanamar. Making a difference in turbulent times with American Friends Service Committee.
Tuesday 3 October 7:30pm
St Margret's Hall, St Margaret's Street, Bradford-on-Avon BA15 1DE
Email: bradfordonavon@quaker.org.uk

Brigflatts Quaker Meeting
Brigflatts Quaker Week talk:
Quakers - An Inclusive Society. Do you have to believe in God to be a Quaker? by David Boulton who is a former President of Friends Historical Society, a well-respected author, a founder of the Nontheist Friends Network – and a Humanist. He'll suggest that religion doesn't have to be supernatural, that how we relate to each other is more important than religious belief, and that deeds trump creeds every time!
4.30pm on Sunday 8th October
at Brigflatts Quaker Meeting House in 1652 Country
Birmingham, Bull Street Quaker Meeting
Quaker Quest Birmingham
Saturday 30 October, 10am-4pm
Bull Street Quaker Meeting House, 41 Bull Street Birmingham B4 6AF
Find out more about Quaker Quest Birmingham.
Email: bullstreet@quaker.org.uk
Cardiff Quaker Meeting / CC Caerdydd
Stall in Queen St, Cardiff
Saturday 7 October 11am – 12 noon
Email: cardiff@quaker.org.uk
Chichester Quaker Meeting

Chichester is having an Autumn Sale on Saturday 7 October to raise funds for a project in the Gambia run by a member. A great opportunity to meet and find out about Quakers.
Email: chichester@quaker.org.uk
Clitheroe Quaker Meeting
Welcoming meetings for worship on both Sunday 1 and 8 October. With an introduction at the beginning of the meeting to explain who we are, what we do and how we worship.
Coventry Quaker Meeting
'Programmed' Meeting for Worship with songs and readings, linking Quakers around the world for World Quaker Day.
Sunday 1 October 10:30am
Meeting for worship (end of Quaker Week) and a 'bring and share' lunch.
Sunday 8 October 10:30am
More information about Quaker Week in Central England
Email: coventry@quaker.org.uk

Cotteridge Quaker Meeting
Theatre 'Pericles All At Sea'
Monday 2 October 5:30pm
Cotteridge Quaker Meeting House
23A Watford Rd Birmingham B30 1JB
More information about Quaker Week in Central England
Croydon Quaker Meeting
Quaker games day! "Bring your board games or share ours!" Board games, talks and light refreshments.
Saturday 7 October at 10:30am to 5:00
Darlington Quaker Meeting
"If you have any questions, please just ask - we're here to help!"
Email: darlington@quaker.org.uk
Disley Quaker Meeting
'Being a Sanctuary meeting' - a talk by from Tim Gee of the Sanctuary project.
Sunday 8 October,12pm
Email: disley@quaker.org.uk
Diss Quaker Meeting
Simple Living day
30 September 10am to 4.30pm
Email: diss@quaker.org.uk
Dorking Quaker Meeting
170 years of Quakers on Butter Hill and Quaker peace-building worldwide
Sunday 8 October 2017
Email: dorking@quaker.org.uk
Dunblane Quaker Meeting
Enquirers' Day 30 September
Email: dunblane@quaker.org.uk
Durham Quaker Meeting
Durham Quakers are having a stall in Durham Market Place on Saturday 7 October. This also coincides with the 1st Saturday that the University freshers are in town, and Durham Literary Festival.
Email: durham@quaker.org.uk
Epping Quaker Meeting
Epping Quakers will have iceandfireuk performing Asylum Monologues
1 October 2pm
Eventbrite for Epping Asylum Monologues
Email: epping@quaker.org.uk
Exeter Quaker Meeting
Exeter have a talk on Quakers held in Dartmoor Prison (Workcamp) in WWI from a local family historian taking part in a 'Devon Remembers' community project. 7pm Friday 6 October
Outdoor meeting for worship in Bedford Square on Sunday 1 October from 11.30am
Email: exeter@quaker.org.uk
Folkestone Quaker Meeting

Asylumn monologues
7 October
Email: folkestone@quaker.org.uk
Garstang Quaker Meeting
Bring a Friend
Sunday 8 October

Email: garstang@quaker.org.uk
Gildersome Quaker Meeting
Gildersome is open on 8 October with a talk at 2.30pm 'A Quaker Education in Leeds and Gildersome'
Glasgow Quaker Meeting
George Lakey talks about Viking Economics
A divided Britain: what can we learn from the Nordics?
George Lakey's newest book has a provocative answer

Start: 13:15 on 8 October 2017
Finish: 16:00 on 8 October 2017
Glasgow Quaker Meeting House, 38 Elmbank Crescent, Glasgow G2 4PS, United Kingdom
More information on our events page
Hammersmith Quaker Meeting
Everyone is welcome to Harvest lunch.
Sunday 1 October at 12:30
See Hammersmith Facebook event more

Harrogate Quaker Meeting
Outdoor meeting for worship, supper for user groups, family film evening, midweek meeting for worship. Fiends through the years - photo exhibition.

Email: harrogate@quaker.org.uk
Hereford Quaker Meeting
Heritage Open Days 8-9 September. We'll offer a warm welcome with refreshments (both victual and spiritual) and the chance to visit our 'Secret Garden' – with the Meeting House open on Saturday 30 September, Sunday 1 October and Thursday 5 October for visitors.
Email: hereford@quaker.org.uk
Hertford Meeting House
A special Quaker concert on Sunday 8 October at 3.00pm. Programme includes 'Walk Cheerfully' - Quaker testimonies set to music for soprano, oboe and string quartet. FREE - all welcome!

Horsham Quaker Meeting
Repair Cafe 10am until 12.30pm the first Saturday of every month from 7 October

Wednesday 4 October.Gathering at Natwest (the square in the town centre) in Horsham at 10:30
Meeting for Worship in the Carfax at 12.30pm
Huddersfield Quaker Meeting
'Divided Britain: what can we learn from the Nordics?' with George Lakey
5 October at 7.30pm
Email: huddersfield@quaker.org.uk
Ipswich Quaker Meeting
'The Peace Testimony is core to how Quakers think of themselves. But what does it mean in the 21st century? Ipswich Meeting is exploring this question on
Wednesday 11 October at 7pm at the Meeting House in Funnereau Rd.
Isle Of Man Quaker Meeting
Picnic!
30 September
Email: isleofman@quaker.org.uk
Keighley Quaker Meeting
Racial Discrimination, Discussion-book film 'Hidden Figures'
7:30 on 3 October Facebook event Hidden Figures Keigthley
Email: keighley@quaker.org.uk
Lancaster Quaker Meeting
We will have people available in the Meeting House to talk to visitors during Quaker Week from 1:00 pm each weekday, extending into the evening on Friday, and a special Sunday welcome.
Email: lancaster@quaker.org.uk

Leeds - Carlton Hill Quaker Meeting
Saturday 7 October – a 'GREEN FAIR +' with stalls, food, speakers, workshops, Leeds Peace Pole will be unveiled in the Meeting House garden by the mayor of Leeds on Saturday 7 October at 3.30pm.
More on the Leeds meeting's website.
Email: carltonhill@quaker.org.uk
Lewes Quaker Meeting
Lewes Quaker Meeting will host "A Taste of Quaker Silence" on 30 September. Participants are invited to arrive from 9.45 for a 10 a.m. start. Brief descriptions of what happens are followed by short periods of silence, introducing such terms as "hearts and minds prepared", "centring down" and "gathered meeting". The meeting will end around 11 a.m. after which there will be time to ask questions and offer comments.
Email: lewes@quaker.org.uk
Lincoln Quaker Meeting
'In turbulent times, be a Quaker.' A series of talks and discussions about Quakers in turbulent times and being Quaker today.
Saturday 7 October at 12:30pm
Email: lincoln@quaker.org.uk
Ludlow Quaker Meeting

Our Faith in the Future talk
Saturday 30 September


Malton Quaker Meeting

Come and hear the remarkable story of the birth of a worldwide movement - a social and religious experiment that continues today after 365 years. Discover little known characters and events from Malton's history. Free with donations for Malton Museum. Tuesday 3 October 7pm
Email: malton@quaker.org.uk
Manchester Central Quaker Meeting

Quaker Quest 2017 is exploring the following topics:
Wednesday 13 September – Equality
Wednesday 20 September – Sustainability
Wednesday 27 September – Quakers, War and Peace
Wednesday 4 October – Encountering the Divine in Everyone
6:15pm for buffet before a 7pm start. Finish at 9:15pm.
Email: centralmanchester@quaker.org.uk
Mansfield Quaker Meeting
The Journey Men Bundel 8 October 1:30pm Facebook event

9.30am Sharing Favourite Quotes from Quaker Faith & Practice
10.30am Meeting for Worship
12.30pm Shared Lunch - please bring contributions
1.30pm The Bundle Performance by Lynn & Dave Morris, Journeymen Theatre Group
Commissioned by QARN- Quakers Asylum Seekers and Refugee Network
'The real life story of a Chechen woman who flees the persecution and violence of her society and immediate family to save both herself and her children. Here in the UK, she continues to negotiate the complex and harsh thickets of bureaucracy in order to attain refugee status.'
Email: mansfield@quaker.org.uk
Marazion Quaker Meeting
Material for young people who are new to Quakers.
Email: marazion@quaker.org.uk
Milford Haven Quaker Meeting
Milford Haven Meeting House will be open on Thursday, Friday and Saturday the 5th, 6th & 7th October between 12.00 and 5.00pm with an invitation to come in for tea, cake and talk. On Saturday afternoon there will be a guided walk telling how Quakers helped found the town and their relationship with the infamous Lady Hamilton and her lover Lord Nelson. On Sunday 8th October there is an invitation to join our Meeting for Worship at 11.00am.
New Earswick Quaker Meeting
Open day and invitation to a meeting for worship!
Sunday October 8 at 10.30am
New Earswick Meeting House is at the far end of the car park of the Folk Hall: YO32 4DD
Email: newearswick@quaker.org.uk
Northampton Quaker Meeting
There will be a showing of the film 'Friendly Persuasion' on Saturday 7th October at 2.00pm at Northampton Meeting House, Wellington t Northampton, NN1 1AS, with the question, 'Are Modern day Quakers like this?' This event is free and there will be tea and cake!

Penrith Quaker Meeting
A talk about Quaker History
Wednesday 4 October at 7:30pm
Meeting House Lane, Penrith, CA11 7TR
Email: penrith@quaker.org.uk

Perth Quaker Meeting
Talk: A Divided Britain: What can we learn from the Nordics?
Taking an entertaining look at the Nordic welfare state, showing us that we too can have a more equal and just economic system, American author and Quaker activist George Lakey will talk about his new book Viking Economics: How the Scandinavians got it right and how we can too.

Saturday, 7 October 2017 - 4:00pm
More information on the Quakers in Scotland Website
Polegate Quaker Meeting
Harvey Gillman talk. Limited space, please contact 07789591381 to book a free seat.
Wednesday 4 October at 3:15pm
10 The Mount, Hailsham, East Sussex, BN27 2DS
Email: polegate@quaker.org.uk
Poole Quaker Meeting
Voices for Peace; the stories of women in conflict zones told in poetry and song accompanied by instruments.
Saturday 7 October at 3pm
Longfleet Baptist Church, 138 Wimborne Road, BH15 2EX
Email: poole@quaker.org.uk
Portobello & Musselburgh Quaker Meeting
An invitation from local Quakers to come to meetings for worship.
Sunday 1 October at 7.30pm
The small hall at Portobello and Joppa Parish Church EH15 2DL (access off Brunstane Road North)
Email: portobellomusselburgh@quaker.org.uk
Portsmouth Quaker Meeting
World Quakers - from New Zealand to Hawaii - will create one big 24 hour virtual worshipping community. Portsmouth will hold a themed meeting and gather for a simple lunch of soup and rolls afterwards. Including a children's meeting.
Sunday 1 October at 10.30am
Friends Meeting House, 25 Northwood Road, Portsmouth, PO2 9QT
Find out more: Facebook event
Email: portsmouth@quaker.org.uk
Reading Quaker Meeting
Family craft afternoon
Saturday October 7 at 2pm
Find out more: Facebook event
Housing: a talk by Alok Sharma MP
Saturday 7 October at 4pm
Find out more:
Facebook event
2 Church Street, Reading, RG1 2SB
Email: reading@quaker.org.uk
Redland Quaker Meeting
Panel talk: Social Justice for Refugees - what does this mean? Music from singer-songwriter Nicky Coates, children's arts table, Amnesty International photo exhibition and shared meal. Please book here: Eventbrite tickets
Saturday 7 October at 5pm
126 Hampton Rd, Redland, Bristol BS6 6JE
Email: redland@quaker.org.uk

Rochester Quaker Meeting
"Will the real George Fox please stand up...1624-1691 Out of the chaos of the civil war came a man who nearly turned the world upside down. He founded the 'Friends of Truth', now the Quakers. But the truth was feared by the State and so the Quakers were systematically persecuted. They stand firm against the persecution as they stood up for: Truth and Justice, Equality, Simplicity and Peace based on a silent listening for the word of God. All this will come to life as John Spencer enacts the role in his acclaimed drama

1st October at 2 pm.
Rochester Meeting House, Northgate, Rochester, ME1 1LS

Selly Oak Quaker Meeting
VEGGIE RESCUE
A Quaker & Small Footsteps activity day for curious and adventurous 7 – 14 year olds!
Activities will include:
•Learning how to cook a veggie curry or stew and then eat it!
•Creating a veggie sculpture with recycled materials
•Rescuing a veggie plot from potential flooding and extreme weather
•Developing a drama performance with Journeyman Theatre
•Sharing it all with your friends and family over a drink and cake!

Saturday Oct 7, 10am – 4.30pm
Selly Oak Meeting House, 930 Bristol Road, Birmingham B29 6NB
Skipton Quaker Meeting
Open day at Skipton Meeting House.
There will be food, tea and coffee, live music, activities, talks, tours, and a short (15 minute) Quaker meeting for worship for anyone who would like to experience one.
Saturday 7 October at 10am–4pm
Quaker Meeting House, The Ginnel, Newmarket Street, Skipton BD23 2JA
Find out more: Facebook event
Email: skipton@quaker.org.uk
Slough & Windsor Quaker Meeting
In these turbulent times, you are invited to join us for a short reflective meeting at Slough & Windsor Quaker Meeting House.
Tuesday 3 October at 7.30pm
74 Ragstone Road, Slough SL1 2PX
Facebook event
Email: slough&windsor@quaker.org.uk
Stockport Quaker Meeting
Talk from Ellis Brooks of the Quaker Peace Education Programme
Wednesday 4 October
Quaker Meeting House, 2 Cooper Street, Stockport, SK1 3DW
Email: stockport@quaker.org.uk
Stocksfield Quaker Meeting
A week of talks - drop-in! Tea and cakes, and a chance to find out more about Quakers.
Monday 2 October–Friday 6 October at 10am–4pm
Stocksfield Quaker Meeting House, Branch End, NE43 7NA
Find out more: Facebook event
Email: stocksfield@quaker.org.uk
Stoke Newington Quaker Meeting
Fly Kites not Bombs workshops, and peace event
Saturday 30 September at 10:30am
Find out more: Eventbrite website
Lordship South Tenant Management Organisation Community Hall, 14 Lordship Grove, N16 0QA
Email: stokenewington@quaker.org.uk
Stratford-upon-Avon Quaker Meeting
A talk by Tim Gee on Quaker Sanctuary Meetings
Thursday 5 October at 7:30pm
Friends Meeting House, 37 Maidenhead Road, Stratford Upon Avon, CV37 6XT
Email: stratforduponavon@quaker.org.uk
Sutton Quaker Meeting
Quaker storyteller Cindylou Turner-Taylor
Friday 6 October at 7:30 pm
10 Cedar Rd, Sutton SM2 5DA
Email: sutton@quaker.org.uk
Taunton Quaker Meeting
Quaker Week, Meeting for Worship
12:30 Sunday 1 October

Email: taunton@quaker.org.uk
Tavistock Quaker Meeting
Tavistock Local Meeting are holding an exhibition of art work at Tavistock Meeting House on Friday and Saturday 6th and Saturday 7th October as part of Quaker Week. We are fortunate to have a number of talented and creative artists, sculptor, potters and photographers amongst our members and attenders and we are using their work to raise awareness of our Meeting amongst people from the town and surrounding area.
All will be most welcome-our Meeting House at 9 Canal Road, Tavistock will be open from 10.00am to 4.00pm on both days.
Telford Quaker Meeting
Talk on poverty
The Quaker Room, Meeting Point House, Town Centre, Telford, TF3 4HS
Email: telford@quaker.org.uk
Watford Quaker Meeting
'Supporting Refugees: What can we do? Tim Gee and Berhane Woldegabriel
Monday 2 October at 7:30pm
150 Church Road, Watford, WD17 4QB
Email: watford@quaker.org.uk
Westminster Quaker Meeting
Garden party and display
Meeting House, 52 St Martin's Lane, London, WC2N 4EA
Email: westminster@quaker.org.uk
Winchester Quaker Meeting
Trials and Triumphs by Cindylou Turner-Taylor
Thursday 5 October at 7:30pm
Find out more:
More on the meeting's website.
16 Colebrook St, Winchester SO23 9LH
Email: winchester@quaker.org.uk
Quaker Centre Bookshop
Introduction to Quakerism with Geoffrey Durham.
Thursday 5 October at 6:30pm

The Quaker Centre Bookshop, Friends House, 173-177 Euston Road, London NW1 2BJ
Other events

Finding out about Quakers: a weekend for newcomers
These weekend events are for people who know little or nothing about Quakers, and for those who have been around Quakers a while and want to explore further. Come and discover more about core Quaker beliefs, experience Quaker worship and hear from Quakers how they live their lives.
Experienced facilitators from the Quaker Quest (offsite link) team guide these events. They will encourage you to reflect, ask questions and share your thoughts with others. Details about Charney Manor events here (offsite link).
More about Quakers

We believe that there is something of God in everyone. Find out how we worship, what we do, how we are organised and how you can join us.