Search
This event has ended.
Junior Gathering and Senior Conference
19 - 26 August 2017, Reading and Oxford
Junior Gathering & Senior Conference are week long Quaker gatherings for young people (11-14, 15-18).

What happens during the week?
It is an exciting and busy week: aside from meeting some like-minded young people in a vibrant, Quaker environment, you will have the opportunity to take part in a wide selection of activities.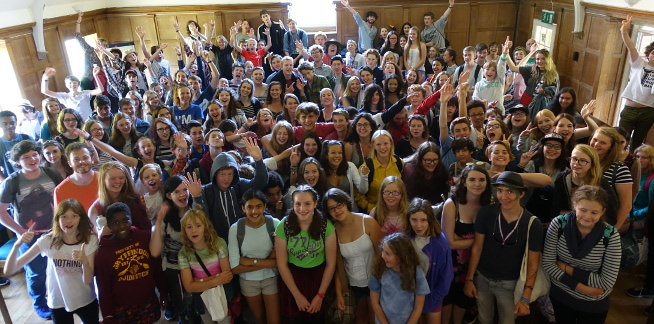 Days begin with meeting for worship and end with an epilogue. In between, there are plenty of activities on offer including: music making, arts & crafts, sport, swimming, making really big things, discussion groups, team challenges, biscuit making, barn dancing and more! There is also a day trip to Cambridge, lively evening entertainments, a fancy-dress disco and a bonfire.
We explore the theme with visiting workshop facilitators and through simulations, workshops and small group discussions. Everyone is also part of a small 'base group' who meet each day to get to know each other, play games and talk about the theme (they are like a mini family for the week).

We know that many young people will require help if they are to be able to attend Senior Conference or Junior Gathering. Your local Meeting or Area Meeting may have funds available. We would be glad to offer further advice if required.
Bursaries
It is FSSE policy that no one should be prevented from attending for financial reasons, and we do have a small bursary fund. If you need any help even for a few pounds please contact us.

More information
For more information contact:
Oliver Waterhouse
Telephone: 07758458817
Related events