Why is inequality a problem?
"High levels of inequality are causing huge amounts of harm to our society"
Helen Drewery, general secretary of Quaker Peace & Social Witness
Britain is one of the most economically unequal countries in the industrialised world. Despite considerable progress made last century, inequality has been increasing since the late 1970s. Children in this country have vastly different life chances depending on their families' wealth. Inequality means great differences of quality of life, safety and influence between the richest and poorest.
"We are angered that the United Kingdom now has a greater disparity in income than at any time since the Second World War."
- BYM statement on equality March 2012
This situation is unjust and damaging for individuals. It's also damaging for our ability to build thriving, cohesive communities. It diminishes us all.
Studies show that more unequal societies have more health and social problems. They're less trusting, less altruistic, and have lower levels of happiness and social mobility. There is growing evidence to suggest that extreme levels of inequality also hurt our economy and our environment.
The human and social cost of letting inequality continue to rise is incalculable. We need concerted and deliberate action to narrow the gap between the richest and the rest.
Read more:

How can we tackle inequality?
"As we wrestle with the implications of our testimony to equality, Quakers feel called to act more radically to tackle the underlying causes."
Meeting for Sufferings, 7 April 2014
In recent years Quakers have held vigils to raise awareness in their local areas, and organised conferences where the issues could be explored in depth. Eighteen Quaker organisations and meetings have now become Living Wage employers.

To get inspiration around what you can do, see our guide to taking action on economic inequality (PDF).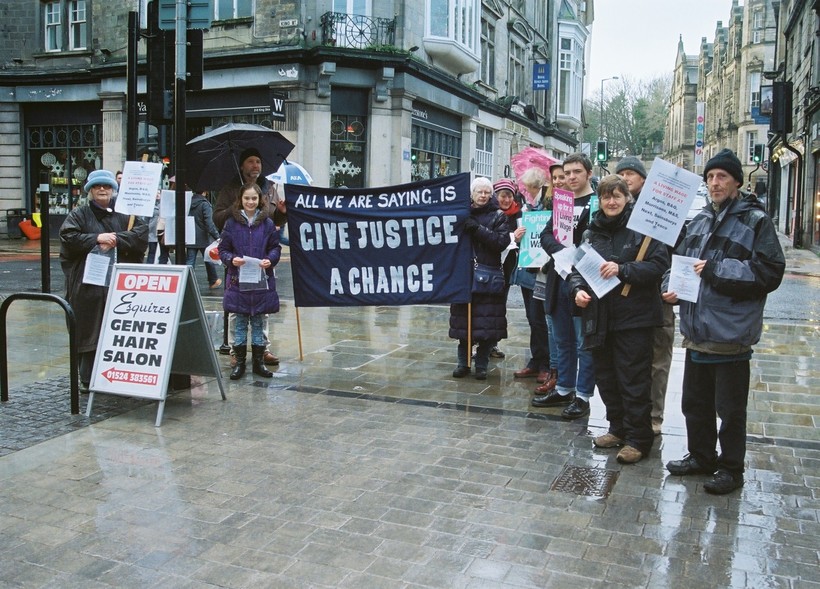 Lancaster Quakers during Quaker equality week in 2015. Photo credit: Nick Morgan
What are we doing about inequality?
As well as supporting Friends to take action, Quaker Peace and Social Witness (QPSW) are working on behalf of all Quakers to call for:
a fairer, more progressive tax system
the transformation of Britain into a genuine living wage economy
fairer markets for basic goods and services such as food, finance and funerals
an effective social safety net
Read our briefing Economic Inequality: A Quaker Concern (PDF).
Defending our social security system

Social security protects against the worst impacts of economic inequality and poverty. Quakers have been working with other churches and faiths to campaign against recent proposals which would further weaken our social security system. Read more about our work defending our social security system.

Living Wage
A living wage is a wage that is enough to live on. A genuine living wage would bring millions of people out of poverty. Read more about our work on the Living Wage.