Search
Back to Catalogue: Newsletters
Quaker News is a magazine about work Britain Yearly Meeting does on behalf of all Quakers in Britain. It is published three times a year.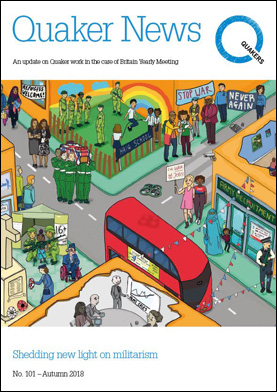 Current issue

Back issues

Quaker News 99 - Winter/spring 2018
Get paper copies of Quaker News
Paper copies of Quaker News are available for free at local Quaker meetings. If your meeting would like to adjust the number it receives, or would like to request back issues in either standard or large-print versions, please email qn@quaker.org.uk, phone 020 7663 1157 or write to Bex Gerrard, Communication & Services, Friends House, 173 Euston Road, London NW1 2BJ.
Sign up to our monthly email newsletter
Enter your details below to sign up for Quake! – the monthly email update on the work of Britain Yearly Meeting (BYM) and Quakers in Britain. When Quaker News is published online it will be linked to from this newsletter.
By subscribing, you give permission for Britain Yearly Meeting to hold your contact details in its database and to send you this e-newsletter. If we stop the newsletter, we will inform you and delete the mailing list. The information on this form will only be used for this purpose. It will be processed by our email platform, MailChimp, for the purposes of sending out the email. You can view Mailchimp's privacy information here.
You can unsubscribe at any time via the link at the bottom of every email. For any queries about how we handle your data, contact BYM Data Safety group at datasafety@quaker.org.uk
Your feedback

We'd love to hear your comments about Quaker News. Please contact the editor at qn@quaker.org.uk, or write to Quaker News, Communication & Services, Friends House, 173 Euston Road, London NW1 2BJ.