What's wrong with fracking?
"We have faith that we can tackle climate change and build a more sustainable future, but we know this is only possible if fossil fuels remain underground."
Meeting for Sufferings, February 2017.
Under the 2015 UN Paris climate agreement, the UK committed to cut greenhouse gas emissions in line with a 2°C temperature rise above pre-industrial levels, and to attempt to limit this to 1.5°C. According to climate scientists, to achieve this target, we must keep approximately 80 per cent of known fossil fuel reserves in the ground.
Shale gas is a carbon intensive fossil fuel that requires a carbon intensive extraction method named hydraulic fracturing - otherwise known as fracking. Quakers in Britain call for a ban on all intensive forms of fossil fuel extraction, including fracking, because extracting and burning these fuels is harmful to people and our planet.
We are committed to working for climate justice. Our action is driven by our belief in equality, justice and respect for the earth. Instead of extracting new fossil fuels, we want investment in renewable, efficient energy that is affordable for all.
Unfortunately, fracking has support from the UK government and wealthy investors. This year, we could see fracking site fully operating in the UK for the first time in six years. The industry could seriously undermine the UK's ability to meet its commitments made under UN climate deals.
Yet we have the power to resist fracking.
Take action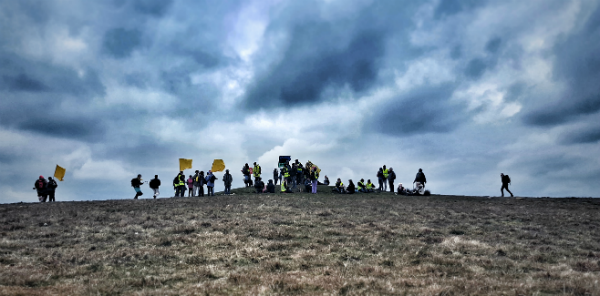 Across the country, Quakers are joining with others to resist fracking and build support for greener energy. In May 2017, local Quakers held a meeting for worship on top of Pendle Hill to bear witness against fracking in Lancashire. More than 100 Friends joined them. Hear more about the day in the Q:Witness podcast Pendle Hill, fossil fuels and GE2017.
Quakers from Huddersfield and elsewhere have joined regular protests at the Preston New Road. Read an account from a Quaker who has joined the local resistance. She is not alone in taking action; Friends across the country are contacting local decision makers, writing letters to the local press and calling on political leaders to ban fracking.

Now is an important time to contact your MP about this issue. The government has recently reaffirmed its commitment to the Paris climate deal, yet has given little detail about how it will cut emissions and keep fossil fuels in the ground. For advice on contacting your MP on fracking see Fracking: a briefing for Friends (PDF).

For a broader overview, listen to the podcast episode below to hear Sustainability & Peace Programme Managers Chris Walker and Sunniva Taylor discuss effective forms of witness against fracking.
We can help you and your meeting take action on fracking. Whether its contacting your MP, writing to the press, planning an action, or working with others in your community, we can provide information, advice and share news with Friends. Please get in touch using the contact details at the bottom of this page to find out more.

To stay up to date on Quakers' action fracking and connected issues you can:
Keep Scotland frack-free
The Scottish government currently has a moratorium on fracking. No fracking is taking place whilst the impacts of the industry are assessed. In early 2017, ministers announced a public consultation on the issue. In March, Quakers in Britain submitted a response to the consultation, calling for a ban on fracking, and for the Scottish government to support renewable, efficient energy instead.
The consultation has closed and we await the Scottish government's response. You can read our submission to the consultation here.