Search
This event has ended.
Sanctuary Everywhere: A Quaker Conference in Brussels
1 - 3 December 2017, Brussels
Quaker Peace & Social Witness (QPSW) and the Quaker Council for European Affairs (QCEA) are holding a joint conference in Brussels in December, exploring the theme of 'Sanctuary Everywhere'.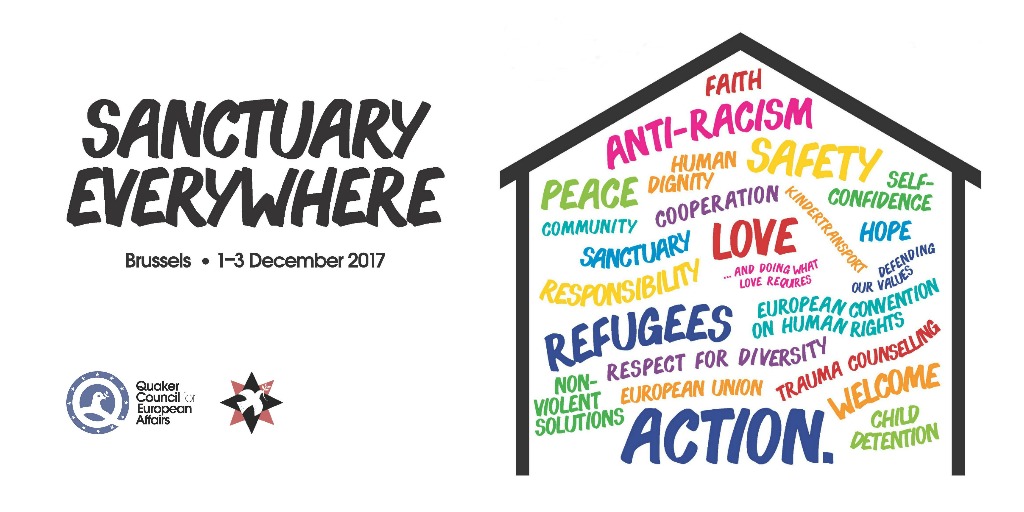 Sanctuary is a place of refuge and safety. This conference will look at how we transform Europe into a continent of sanctuary, both for all the people who currently live here, and for other people seeking protection.

The conference will be an opportunity for Friends to consider the Quaker work on forced migration, but also much broader issues of what Friends can do to ensure Europe is a continent that values the human dignity of all people. The conference will consider how these issues will be affected by the UK withdrawal from the EU, and the impact that any future withdrawal from the European Convention on Human Rights might have.
Europe is facing significant challenges relating to peace and human rights, including an increase in nationalism – and some fragmentation of the mechanism for dialogue and cooperation that have developed in the last 60 years. As Friends we oppose war, and call for peacebuilding efforts long before war is on the agenda. The question facing European Friends is what should we be doing to swim against the current tide. It will be an opportunity to build upon the theme of Yearly Meeting Gathering, but also to worship with Friends from across Europe.
Speakers will include:
Marigold Bentley, Head of Peace Programmes and Faith Relations, Quakers in Britain
Heather Grabbe, Director, Open Society European Policy Institute
You can download a provisional agenda for the conference.
The conference will take place in Brussels from 1–3 December.
The provisional total price (including the two-day event plus all accommodation and food) is £165 / €185.
Register your participation via the blue 'register your place' button.

QCEA are also holding a training day on the European Court of Human Rights immediately after the conference, on 4 December. Download the ECHR training flyer for more details.
More information
For more information contact:
Quaker Council for European Affairs
Telephone: 0032 2230 4935
Related events