Average read time: 3 minutes
Building community at Yearly Meeting
With the throngs of people attending Yearly Meeting, many can find it challenging. Judith Thompson outlines the activities and spaces available to help it become a more welcoming environment.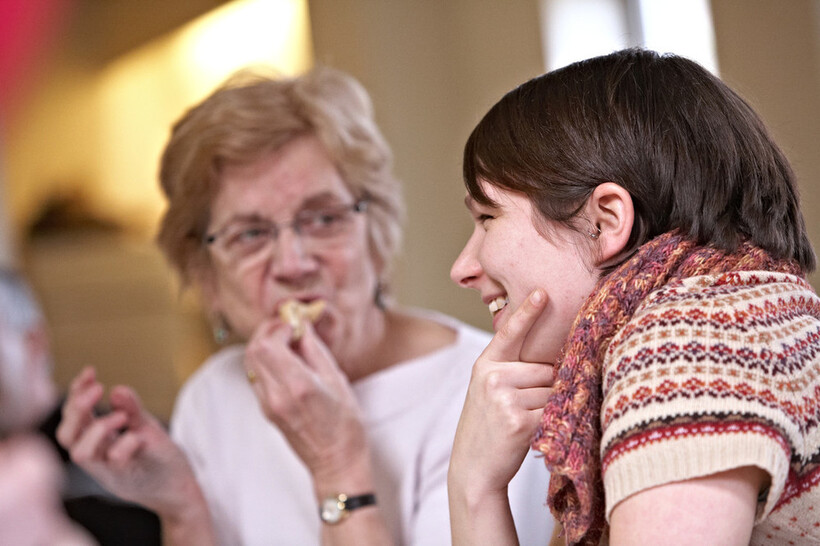 I am looking forward to being once again part of the Quaker community at a Yearly Meeting. I will sink into the silence of worship with hundreds of Friends. I will enjoy exercising discernment in the business that carries forward the life of our Yearly Meeting. I will meet up with Ffriends and share hugs and news. I will be energised by seeing the wealth of Quaker work and witness on display. I will be busy making my contribution to the smooth running of the event as a member of Yearly Meeting Agenda Committee. I will be where I belong.
This is not what I felt at my first London-based Yearly Meeting. I found the building confusing and the variety of activities on offer overwhelming. Much of the business I found difficult to follow. Worst of all, it seemed that everyone else knew each other. Everywhere I looked I saw joyous greetings, warm hugs and animated conversations but I knew only a few Friends from my local meeting and I couldn't find them in the press of people. I felt lost and out of place.
Welcome and inclusion
With this early experience in mind, I am delighted that Yearly Meeting Agenda Committee has given a great deal of thought to how to make Yearly Meeting 2018 a community where everyone who comes feels welcome and included.
We have tried to provide information in Documents in advance to help people prepare both spiritually and practically (see Preparing for Yearly Meeting (PDF)). All the business at Yearly Meeting is set out in Agenda and notes (PDF) and there is a map of Friends House on the back. The Events listing (PDF) sets out in detail what is happening over the weekend and there is a summary timetable on the last page. The documents in advance are available online at www.quaker.org.uk/ym and can be ordered through the Quaker Bookshop or picked up on arrival.
But documents, however useful, are not enough to make people feel welcome. There will be people on hand to welcome Friends on their arrival and events on Friday afternoon to start the building of our community. Throughout the weekend there will be opportunities for worship.
Playing our part
The Community Hub will be in Waldo Williams 2. This will be the place to go to enjoy meeting new friends around conversation tables, over arts and crafts activities, board games or jigsaw making. At most times there will be a host present.
Of course, Yearly Meeting Agenda Committee, however carefully it plans, cannot build the Yearly Meeting community on its own but relies on each of us playing our part. The epistle from Pacific Yearly Meeting in 2017 (page 37 of Epistles and testimonies (PDF)) contains three simple advices that Friends there found helpful in making people feel welcome at their annual session.
"Even if you don't know me, sit with me at meals
Connect with me as a person before raising committee business
Ask me how I am, or how the Spirit is moving in my life."
Perhaps if we all did this it would go a long way to building a community where everyone can feel that they belong. It becomes our Yearly Meeting if we can give as well as take.
Maybe these advices could help us build community whenever and wherever Quakers gather, whether in our local or area meetings, at a regional or a young people's event, at a committee meeting or in a working group. Not rocket science – but could they help us to go WHOOSH?